Chakra Healing Subliminal
Active Your Seven Energy Centers
Our body has seven energy centers which start from the base of our spine and end at the top of our head. They are:
Base or Root Chakra – Muladhara: Associated with our basic needs for survival

Sacral Chakra – Svadhistana: Associated with our senses or sensual pleasure

Solar Plexus Chakra – Manipura: The seat of our personal power

Heart Chakra – Anahata: Deals with love, courage and compassion

Throat Chakra – Vishuddha: Deals with expression and communication

Third Eye Chakra – Ajna: Deals with your inner vision, intuition and intellect

Crown Chakra – Sahasrara: Is your connection to your divinity

Now, if you are wondering how you will know that your chakras are blocked, then here are a few signs:
Recurrent health issues

Lack of motivation

Difficulty in focusing and concentrating

Difficulty in expressing yourself

Closing off from people
And open, clear, and balanced chakras means that:
You're at optimum physical health all the time

You're able to realize abundance

You're in touch with your feelings and creativity

You're in loving harmonious relationships

You're able to give and receive love fully

You're open to express yourself and communicate clearly

You're connected to your highest self and feel an internal harmony
If you are new to the idea of chakras and chakras balancing, you might underestimate the power of this process and dismiss it as something you don't need to work on. Don't make that mistake!
You can see that balancing your chakras can significantly change how you view the outside world, yourself, your abilities, your relationship to others, your vision, your ability to achieve goals, and your manifestation efforts. This means that your overall perspective on life will improve, you'll be able to acknowledge your personal abilities and achieve the optimal level of well-being. This process helps you find the inner and physical balance, confidence, calmness, peace, and anything else you may need to feel strong, positive, and ready to take on the world.
Reprogram Your Mind For Root To Crown Healing
Now, if you are wondering how you can balance your chakras, you are at the right place. Anybody can get access to their own chakras, you just need a little help with it, and this is what this subliminal is for.
This potent premium subliminal is carefully designed to address imbalances in your chakras, work on chakra activation, chakra cleansing, and chakra balancing. Embedded in this extremely strong premium subliminal are over 5900 special affirmations tailored to open, balance, cleanse and heal your seven energy centers.
There are so many other subliminal audios out there that promise to balance your chakras. However, this potent premium subliminal is much more effective because, unlike them, we have really taken the time to study, understand, and test what exactly heals your energy centers, and consequently – transform your life in all areas. The result is this supreme Chakra Healing Premium Subliminal.
Get your Chakra Healing Subliminal now to experience this life-changing root to crown healing firsthand. Transform your life. 100% risk-free for 90 days.
WARNING: This audio will change your life!
Here Is What You'll Get
Take Your Results To The Next Level
Root Chakra - Take care of yourself financially and provide for what is rightfully yours; no feelings of insecurity and instability, be grounded and secure.

Sacral Chakra – Be open and friendly, attuned to feelings of yourself and others, be creative, considerate, feel joyful from the core of your being and have a strong sense of belonging.

Solar Plexus Chakra – Increase your self-esteem, confidence, and energy levels to take charge of your own destiny.

Heart Chakra – Radiate love for yourself, enabling you to receive and express love unconditionally rather than becoming dependent on others to love you.

Throat Chakra – Fully express yourself without fear of rejection. Communicate your thoughts, feelings, and desires, speak up for yourself, and effectively communicate your needs. Become a charming, balanced person who lives in the present and inspires others.

Third Eye Chakra – Expand your consciousness and awareness, see your life purpose from an expanded view, and have better trust in the process of life. Become a more intuitive, charismatic, and intelligent person who is fearless and whose perspectives are clear.

Crown Chakra – Rise to wider perspectives of your Higher self, yet stay aware of the wisdom of the other six chakras. Be adaptable, versatile, adventurous, wise, explorative, keen to learn, have no fear of death, and open to the divine.

Aura Viewing - Developing the Ability to See Auras and Energy

Raise Your Vibrational Frequency

Open, Balance and Heal Your Seven Energy Centers

Full Chakra Activation, Chakra Cleansing, Chakra Balancing and Chakra Healing
🔒 100% Secure Checkout – Instant Access – 90 Day Money Back Guaranteed
Tons Of Positive Affirmations For Your Transformation!
Life-Changing Affirmations
Click here to listen to the FREE Basic Subliminal on YouTube
Life-Changing Affirmations
Click here to get your Chakra Healing Premium Subliminal now
Follow this simple 3-step process to balance and heal your 7 major chakras and attain harmony, stability, and a sense of peace in your life:
Listen to this audio for at least 4 hours a day for the next 1-3 months to get best results. Some may have to listen longer! The more you listen to this audio the faster you get results. Trust the process.
Please use headphones/earphones. For maximum effectiveness different affirmations are delivered to your left and right ears!
Listen at a low and comfortable volume. To get full results you don't need to consciously understand the voices in the background. Your powerful subconscious mind effortlessly absorbs and fulfills all the affirmations from this audio!
Stay hydrated with water.
You can take breaks in between listening whenever you want.
You can multitask while listening. Simply listen to this audio while working, studying, exercising, sleeping, relaxing or doing what it is you want, and it automatically reprograms your subconscious mind!
🔒 100% Secure Checkout – Instant Access – 90 Day Money Back Guaranteed

The Unique SuccessSubliminals Formula
The secret to our subliminals is a carefully crafted affirmation script, combined with advanced audio processing technology: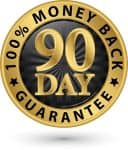 100% Unconditional 90 Day Money Back Guarantee
This powerful Chakra Healing Premium Subliminal comes with a 90 day "no hassles, and no questions asked" guarantee.
Get your Chakra Healing Premium Subliminal today and reprogram your mind for success. You'll get satisfying results and transform your life. 100% risk-free!
If, after 90 days, you don't feel like it was worth 3x the value you paid for, send me an email, and I'll cheerfully refund every cent! No questions asked.
To start your journey, click the "Start My Transformation Now" button below. You'll arrive at a secure checkout page where you can safely enter your payment details. After payment successfully goes through, you'll gain instant access to your Chakra Healing Premium Subliminal.
Don't wait on this. You deserve it!
🔒 100% Secure Checkout – Instant Access – 90 Day Money Back Guaranteed

P.S. You know a great deal when you see one. And that means there's only ONE thing left for you to do: Click here now and enter your payment details to claim your copy of "Chakra Healing Premium Subliminal" – open, balance and heal your 7 chakras. Don't forget, when you order now you're backed by my 100% unconditional 90 day "no hassles, no questions asked" guarantee!
Enjoy your transformation,
– SuccessSubliminals